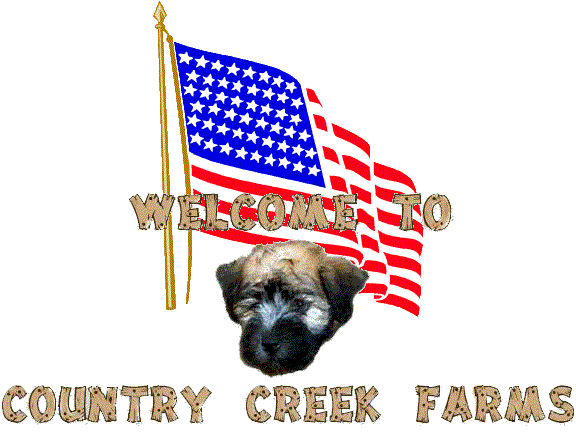 Country Creek Farms
High Quality Rare Breed Dogs
Specializing in Soft Coated Wheatens
Bearded Collies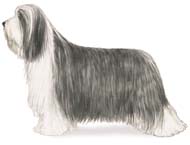 History & Use
Conformation
Disposition
Prices & Availability

History & Use
The Bearded Collie is a medium-sized working dog of ancient origin resembling the Old English sheepdog. This shaggy-haired herding dog is one of Britain's oldest breeds. Theories place the bearded collie back to Roman times, being native to central Europe. Few early records exist. The earliest known pictures of Bearded Collies appear with nobility in the late 1700's. The breed became established in the early 1800's and achieved prominence during the Victorian age in southern Scotland. Bearded Collie shows lost popularity during World War I. The breed continued in Scotland to serve drovers and shepherds due to their ability to cope with a misty, rainy, and cold climate, and their adeptness on rough, rocky terrain. After World War II the beardie re-entered the show ring in Great Britain and were introduced into the U.S. in the late 1950's although none were born in this country until 1969.
Conformation
The male Bearded Collie stands about 20 to 22 inches at the shoulders. Females are about 5% smaller. Its coat is gray or reddish with white markings.
Disposition
The Bearded Collie is stable and self-confident, showing no signs of shyness or aggression. He is a devoted and intelligent member of the family.
Prices & Availability
Please Call 660-434-5522, Fax 660-434-5510, or Email topdog@marktwain.net for prices & availability of puppies. Photos of available puppies can be forwarded by email upon request.

Back to Top




Home

Mission

Breeds

Wheatens

Bearded Collies

Griffons

Cavaliers


Shipping

Care

Guarantee

Sample Contract

Credentials

About Us

Contact Us


Copyright © 2000 Country Creek Farms