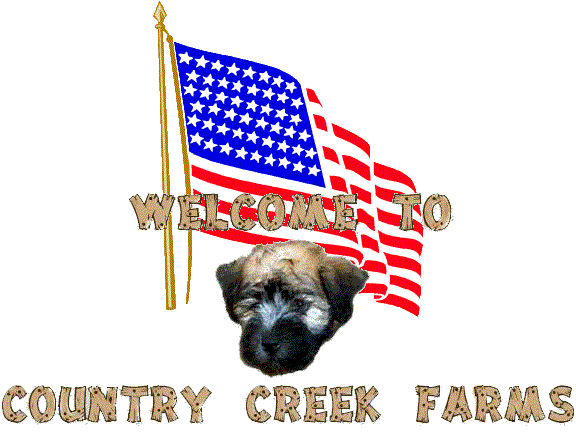 Country Creek Farms
High Quality Rare Breed Dogs
Specializing in Soft Coated Wheatens
Soft Coated Wheatens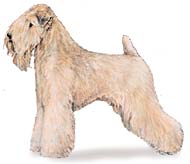 Soft Coated Wheatens
Click images to enlarge
History & Use
Conformation
Disposition
Prices & Availability

History & Use

The Soft Coated Wheaten Terrier was developed as a work animal in Ireland over 200 years ago, and is named for the color of its soft, wavy, medium-length coat. They are a very strong medium-sized dog with great intelligence and versatility.
Conformation

The male Wheaten stands up to 19 inches at the shoulders and weighs up to 45 pounds. Females are about 10% smaller. The small ears drop forward and the tail is docked. Its beautiful wheaten-colored coat is soft and silky with gentle waves setting them apart from other terriers. Their coat resists shedding and is hypo-allergenic.
Disposition

Wheatens are generally less aggressive than other terrier breeds yet very protective of human family. They are happy and self-confident.
Prices & Availability

Please Call 660-434-5522, Fax 660-434-5510, or Email topdog@marktwain.net for prices & availability of puppies. Photos of available puppies can be forwarded by email upon request.

Back to Top


Home

Mission

Breeds

Wheatens

Bearded Collies

Griffons

Cavaliers


Shipping

Care

Guarantee

Sample Contract

Credentials

About Us

Contact Us


Copyright © 2000 Country Creek Farms